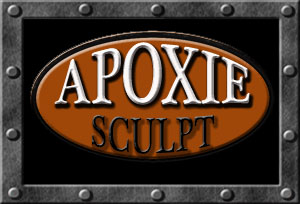 | | |
| --- | --- |
| | Apoxie® Sculpt offers economy as well as performance. This 2-part product has a putty-like, smooth consistency, and is easy to mix & use. It is safe and waterproof with 0% shrinkage/cracking! Working time is 2-3 hrs. Cures hard in 24 hrs., and has a semi-gloss finish. |

Adheres to plastic, resin kits, wood, metal, ceramic, glass, polymers, foam, fiberglass, & more. Can be seamlessly feathered before set-up, or sanded, tapped, drilled, carved, lathed, or otherwise tooled after set-up, without chipping, cracking or flaking. Simple water clean-up.
Endless uses for artists, crafters, restorers, modelers and more!
Features:
Easy to Use
Economy and performance
Putty-like consistency
Adheres to clean surfaces
2-3 hour working time
Self-hardening
0% shrinking & cracking
Hard & durable finish
Light weight

Waterproof
Freeze-thaw stable
Can be textured before set-up or tooled after
Non-hazardous
Non-flammable
No solvents or fumes
Conforms to ASTM D4236
Soap & water clean-up


Any materials shipped back unopened within 30 days
will be refunded less a 15% restocking fee.
Damaged goods will be replaced immediately.
All claims are filed through Paint Factory offices.